One of goals in my 3-Levels List was to get 3 certificates: AWS Cloud Practitioner, AWS Big Data and GCP Data Engineer. I've already passed the first one and that's the reason I'm writing this blog post.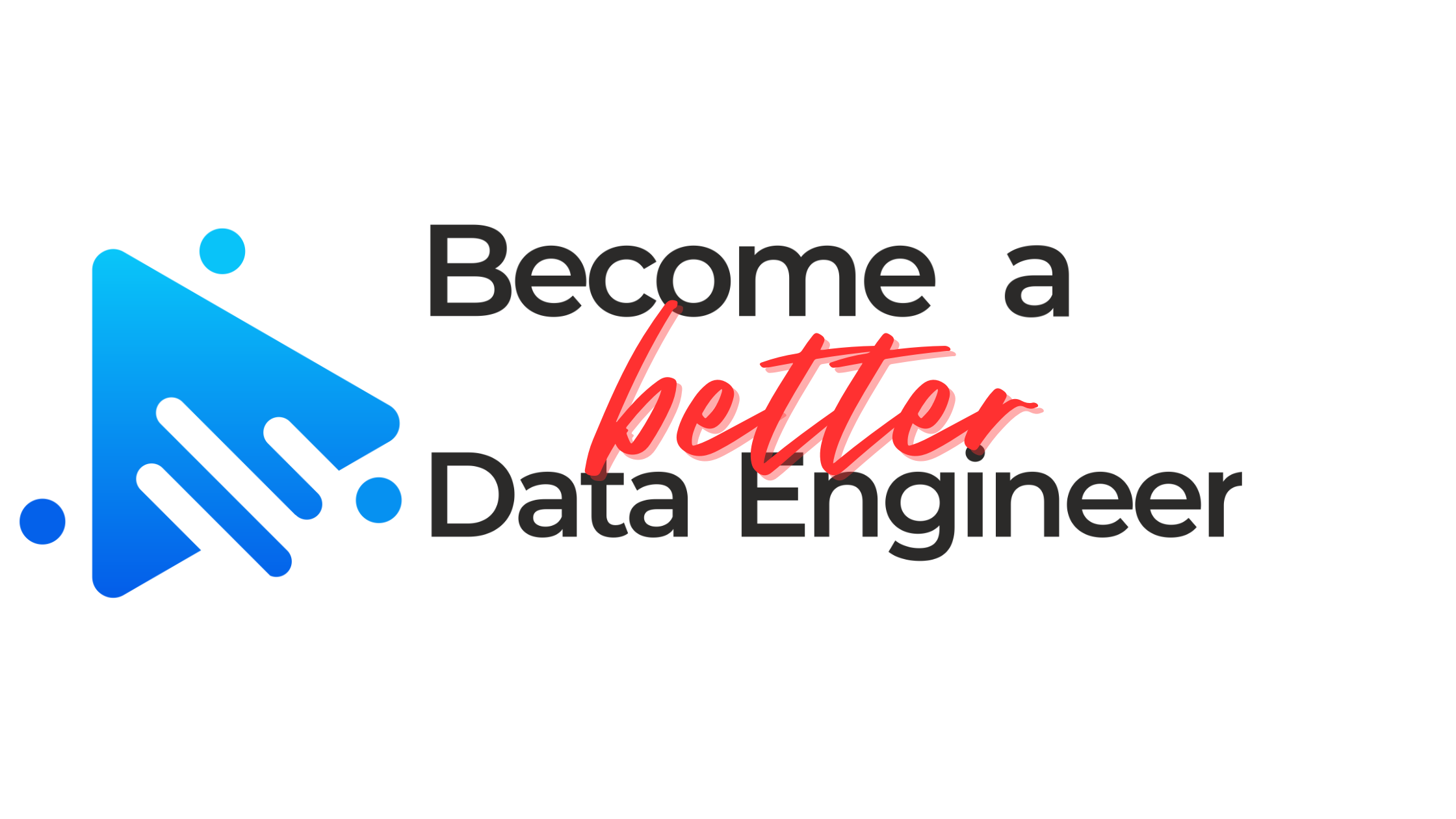 Looking for a better data engineering position and skills?
You have been working as a data engineer but feel stuck? You don't have any new challenges and are still writing the same jobs all over again? You have now different options. You can try to look for a new job, now or later, or learn from the others! "Become a Better Data Engineer" initiative is one of these places where you can find online learning resources where the theory meets the practice. They will help you prepare maybe for the next job, or at least, improve your current skillset without looking for something else.
Throughout the next few lines I will try to share with you what helped me to pass the exam. And so despite the fact of being an AWS user for 2017.
Why is it worth?
My primary motivation to pass the exam was the cost. As of this writing, Cloud Practitioner costs ~100€ whereas Big Data Developer 3 times more! If I was supposed to fail, I preferred to lose 100€ rather than 300€. Also, I have never passed any IT certification before so I hadn't any idea about the preparation cycle. Moreover, I hadn't any idea about how the exam looks like. Long story short, I wanted to allow me to make some mistakes and do not suffer about that.
The next reason is that you will certainly learn something new. When I started to analyze the certification requirements, I found some AWS aspects that I didn't know before. They were especially related to the costs & migration field but not only (see "Things I learned" section).
Things I learned
I learned a lot about the services I didn't use before from the budget and costs family. The first service I discovered during the preparation was AWS Budgets. It helps to see whether a specific project doesn't cost you too much. It's also able to alert you when the budget you allocated to the project reaches an alerting threshold. Another service from that family is AWS Cost & Usage Report. It helps to know the real cost of the services used within an account. The last thing from this category is about AWS Support plans. To illustrate some differences between them, I did a small comparison in this picture: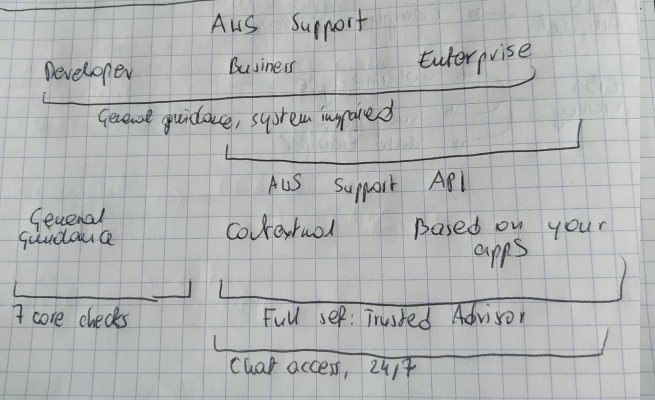 Another point that surprised me was EC2 pricing. I knew the idea of Spot Instances before but didn't know that the instances can be reserved in different upfront strategies: standard, convertible and scheduled. For the first time, I've also met the idea of dedicated instances that dedicate the hardware to a single customer.
Also even though I was working on data projects, I was not aware of all data transfer possibilities. I knew that Direct Connect existed but ignored at that time off-line options like AWS Snowball or other online solutions like Amazon S3 Transfer Acceleration. The latter takes advantage of AWS CloudFront infrastructure which is another service that I haven't used before the certification.
Of course, this is only a small picture of the interesting things you can learn by choosing AWS Cloud Practitioner for your first AWS certification.
My preparation
I started my preparations 3 months before the exam. I used 2 types of learning resources, AWS whitepapers and AWS Cloud Practitioner Essentials (Second Edition) course. When I was reading the whitepapers, I was highlighting important points and copying them later to my paper notebook. When I was watching the course videos, I was also taking notes on the same paper notebook. Why the paper notebook? For me it was always the best way to memorize and understand new things.
I had 1 learning session of 2 hours every week. After each of them (not always the same day) I did some test exercises. I bought 2 different mock exams, Whizlabs AWS Certified Cloud Practitioner and Udemy's AWS Certified Cloud Practitioner: 6 full practice tests 2019. Both helped me a lot not only to understand what aspects I needed to learn better but also to discover the questions formulation on the real exam.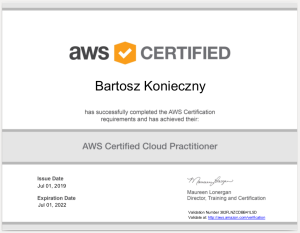 Finally, I passed my Cloud Practitioner certification with a score of 913. The next challenge - Big Data Speciality. And this time too, I will share my preparation process.